The idea of calling a tow truck when a vehicle breaks down, or a non-running vehicle needs to be moved, is commonplace today. But that wasn't always the case. In the past there were far fewer tow trucks available, and not nearly as many towing companies around. Despite that, people found ways to tow the things that they needed to move.
As soon as vehicles started to become more popular, with more people owning them, more companies started to focus on how they could help people whose vehicles broke down or needed to be transported when they didn't run properly. That led to an increase in tow trucks and towing companies, and now it's easy to get a tow truck on short notice in most locations.
What Happened Before Tow Trucks Were Common?
When vehicles were first made, there weren't tow trucks, so there was a time that people had vehicles and didn't have any way to move them if they wouldn't move under their own power. Just over 100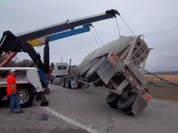 years ago, in 1919, Earnest Holmes Sr. helped a friend pull a car from a river. It took eight men to do the job, and they used ropes, bricks, wood, and their own strength to do it. It wasn't easy or fun, and it left Holmes thinking that there had to be a better way to handle problems like that. The Holmes 485 towing vehicle was finally created after a lot of trial and error, and it paid for itself quickly because it allowed people to recover and tow vehicles that might have otherwise been abandoned.
What Did Early Tow Trucks Offer?
The early tow trucks had a pulley and hook setup that was designed to move vehicles faster and easier than getting a team of men to do it. With a proprietary system designed by Holmes himself, a single person could move a vehicle that wouldn't run or recover a vehicle from a ditch or other inconvenient location. The first model worked well, but it was improved upon every few years. The "V" Coupler was a big improvement that came quickly and allowed a vehicle to be towed at speeds up to 30 mph without any harm. That was a significant improvement over the very slow speeds that were previously used, when tow truck drivers had to travel exceedingly slowly in order to avoid damage to their vehicle or to the one they were towing.
How Do Modern Towing Companies Compare?
Modern tow trucks are still based on the same kind of design that was seen in the past. Each truck has specifications they're built to, and there are several different models that are used. Which model is the right one depends on the specific job, since tow trucks now include everything from the standard towing of passenger cars, small trucks, and SUVs all the way up through the towing of full-sized semi trucks and larger. Add to that capability, the software that towing companies use to track trucks, drivers, and customers, and it's a business that's come a very long way in a relatively short period of time.